Cathryn True Varlet has been a professional musician since 1972, and a songwriter and a music educator since 1975. She is also recognized in the states of Hawaii and California as a certified credentialed teacher, (K-12, with Music and all subjects, with Elementary and Secondary teaching credentials), and having experience with all ages (Kindergarten - College), in all subjects and specializing in the arts, especially in music, dance, and drama. She has her Master's degree in Voice and Music Composition from Hayward State University and Mills College, California.

Musically, she is practiced in the art of composition and improvisation with music and interpretive dance. She sings and plays piano and orchestrates on keyboards, plays guitar, ukulele, flute and recorder, and composes and improvises original music. She reads and writes music, as well as playing by ear.

Her musical background ranges from classical, popular and jazz standards to sacred styles, from concerts to conventions, from playing at weddings to clubs and restaurant lounges, from directing musical groups, church choirs and leading worship teams, to composing and improvising for musicals, video and filmwork, from formal classroom teaching, to giving group workshops, and coaching privately.

Cathryn True Varlet can provide you with a variety of musical services. She is also available as a tutor for academics. She is available by arrangement.


Cathryn True Varlet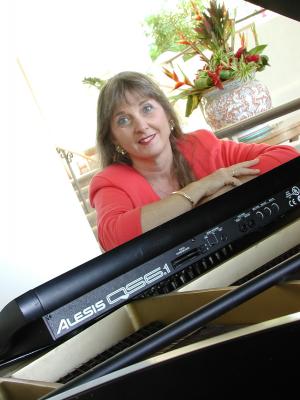 Heartstreams Music